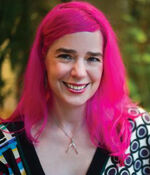 After the successes of the Dreamdark series (
Blackbringer
and
Sliksinger
) and
Lips Touch: Three Times
I'm excited to see what wonders this new trilogy will bring! Author
Laini Taylor
certainly has gone out of her way to tease us with tantalizing tidbits from
Daughter of Smoke & Bone
here & there, but after reading it, one can only imagine where this journey will take us. The beautifully crafted, personality rich characters she brings us blend together so well, how long will it be before we get a film based on her work?
Which of Laini Taylor's books is your favorite?
In case you're interested, here is a schedule for her currently known book tour dates:
ILLINOIS
September 27 at 7:00 PM
Barnes & Noble – Oakbrook, IL
September 28 at 7:00 PM
Two Doors East – Naperville, IL
@andersonsbkshp
MICHIGAN
September 29 at 7:00 PM
Nicola's Books – Ann Arbor, MI
MASSACHUSETTS
September 30 at 7:00 PM
Wellesley Books – Wellesley, MA
@wellesleybooks
CONNECTICUT
October 1 at 6:00 PM
R.J. Julia Booksellers – Madison, CT
@rjjulia
COLORADO
October 6-9
Sirens 2011 - Vail, CO
"I have been invited to be a guest of honor at Sirens, and I am THRILLED! It is a conference dedicated to women in fantasy literature, and I have heard the most amazing things about it! To find out more, click HERE; think about joining us there? Should be an incredibly fun and inspiring few days, immersed in fantasy lit and surrounded by smart and awesome women!" –Laini Taylor
October 10 at 6:30 PM
Boulder Book Store – Boulder, CO

October 11 at 7:00 PM
Tattered Cover – Highlands Ranch, CO
@tatteredcover
WASHINGTON
October 12 at 7:00 PM
Secret Garden Books – Seattle, WA
@secretgardenbks
October 13 at 7:00 PM
University Bookstore – Mill Creek, WA
@ubs_events
OREGON
October 18 at 7:00 PM
Powell's Books – Beaverton, OR
@powells
CALIFORNIA
October 24 at 7:30 PM
Mysterious Galaxy – Redondo Beach, CA
@MystGalaxyBooks
October 25 at 7:00 PM
Book Soup – West Hollywood, CA
October 26 at 7:00 PM
Barnes & Noble - Huntington Beach, CA
October 27 at 7:00 PM
Books Inc. (Opera Plaza) – San Francisco, CA
@nymbc
October 28 at 7:00 PM
Copperfield's Books – Petaluma, CA
@Copperfields
Ad blocker interference detected!
Wikia is a free-to-use site that makes money from advertising. We have a modified experience for viewers using ad blockers

Wikia is not accessible if you've made further modifications. Remove the custom ad blocker rule(s) and the page will load as expected.